William is a trial attorney in Cleveland, Ohio, where he lives with his wife, Christine, and their two daughters.His practice is devoted to nursing home abuse and medical negligence.

Latest posts by William Eadie (see all)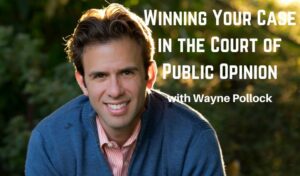 Ready for an ethics CLE that can improve your bottom line by helping you leverage media in you cases?
I'm pleased to announce our December 13 CATA Luncheon CLE presenter, Wayne Pollock, who will be presenting "Engaging the Court of Public Opinion," an ethics CLE focused on how you can responsibly engage with public media in your cases.
Details:
Where: Hilton Downtown Cleveland, room Center Street A
When: Wednesday, December 13 from 12:15-1:35 (12:15-12:20 registration; 12:20-12:30 introductory remarks; 12:30-1:30 presentation; 1:30-1:35 wrap-up)
Why: Learn to use public media responsibly to increase case value and outcomes (requesting 1.0 ethics CLE credit)
Who: You!
Register now using the form at the bottom of the page, or read on for more event details!
Presentation
With the proliferation of online and social media, in 2017 attorneys represent their clients in a court of law AND the Court of Public Opinion. Engaging the Court of Public Opinion not only helps attorneys to favorably resolve their clients' cases—it is required if an attorney wants to protect a client's reputational and business interests in connection with a legal dispute.
When advocating in the Court of Public Opinion, attorneys must comply with Ohio Rule of Professional Conduct 3.6 (Trial Publicity). In this presentation, we will cover Rule 3.6's restrictions, the U.S. Supreme Court's take on those restrictions, Ohio case law and ethics opinions regarding the rule, and examples from across the United States where attorneys' out-of-court statements were challenged as violating Rule 3.6.
About Wayne Pollock
Wayne Pollock founded Copo Strategies after spending over a decade achieving favorable public relations and legal results for his clients. Prior to starting Copo, Wayne was a litigation attorney at Dechert LLP, an Am Law 50 law firm with with more than 900 attorneys worldwide, and more than $900 million in annual revenues.
In his more than six years at the firm, he worked on high-stakes, high-profile matters that were often reported on by local, national, and international media outlets, including representing Takata (maker of recalled airbags), the ten former independent directors of Lehman Brothers, and the Marshall family (against litigation brought by Vickie Lynn Marshall a.k.a. Anna Nicole Smith).
Prior to Dechert and law school at Georgetown, Wayne practiced public relations for four years at a national marketing communications firm where he worked with media outlets on a daily basis.
About Copo Strategies
Copo Strategies is a limited scope, boutique law firm with a niche practice: helping other attorneys and clients make those clients' cases in the Court of Public Opinion. Working as consultants to other lawyers and their firms, or as limited scope co-counsel to clients, the firm provides legal strategy and services in the form of communications strategy and services. The firm's advocacy supports the favorable resolution of clients' legal disputes while also helping to minimize the reputational harm to clients caused by those disputes.
Register for the December 13 CATA Luncheon CLE