William is a trial attorney in Cleveland, Ohio, where he lives with his wife, Christine, and their two daughters.His practice is devoted to nursing home abuse and medical negligence.

Latest posts by William Eadie (see all)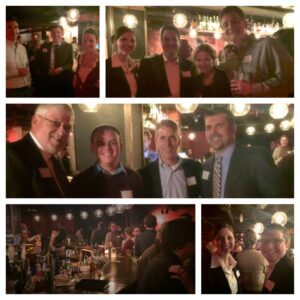 Last Thursday CATA co-sponsored a social networking event with the Cleveland Marshall College of Law's Criminal Law Society at The Speakeasy on W. 25th Street. We welcomed over 50 attendees, including CATA members, Marshall law students, and common pleas judges and staff attorneys. It was a delightful evening of libations, appetizers, and community building. It was a wonderful opportunity for CATA members to meet potential law clerks and for students to obtain some insight into the practice of law from a trial attorney's perspective. CATA looks forward to sponsoring more networking events with area law schools this fall.
Check out some of the photos from the event on Twitter:
Thanks everyone who made it out to the Speakeasy social last night with @CMLAWSchool Criminal Law Society! pic.twitter.com/ZATMwCKniI

— CATA (@CleveTrialAttys) March 27, 2015
CATA Social tonight at Speakeasy@CleveTrialAttys pic.twitter.com/pRrt9eu6Mf

— Ellen Hobbs Hirshman (@ellenhobbs) March 27, 2015