Ellen is an experienced Ohio trial attorney with a focus on medical malpractice and catastrophic injuries.She is a past President of the Cleveland Academy of Trial Attorneys and Chair of their Community Outreach Committee.

Latest posts by Ellen Hobbs Hirshman (see all)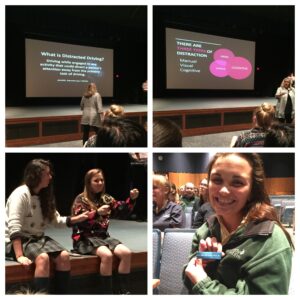 The Cleveland Academy of Trial Attorneys and I were invited to present the End Distracted Driving program www.enddd.org at Our Lady of the Elms in Akron, Ohio yesterday afternoon, October 27, 2015.  The 200 students (7th graders through 12th graders) and faculty were profoundly moved by the testimonials and data contained in the presentation.
The students will be taking home the Family Safe Driving Agreement to discuss safer choices to make when driving and when being driven.
CATA is making a difference and changing the way people drive!
To see all the photos of the event, visit the CATA Facebook Page.