Over the past 2 years, the Cleveland Academy of Trial Attorneys (CATA) along with their Community Outreach Committee, have partnered with The Casey Feldman Foundation and End Distracted Driving www.enddd.org,  reaching out to high schools throughout Northeast Ohio to try and change attitudes toward distracted driving.  I have personally presented at Hawken School, Fuchs Mizrachi, Beaumont School for Girls, Gilmour Academy, Padua High School, Our Lady of the Elms, West Geauga High School and the Cleveland Council of Independent Schools, with many more presentations to be scheduled.
It is a powerful and effective presentation that moves me every time I present.  I start the presentation by telling the students that I am not here to TELL them how to drive.  I do not like it when people tell me what to do and I am not doing that.  I explain that I am providing them with information so they may make informed choices the next time they drive.  I also will start my presentation by telling the students that distracted driving is NOT a teen problem.  It's an adult problem.  We, as parents/adults have set a poor example.  We have been poor role models in this regard and we need to start making smarter, safer choices when driving. I also admit to the students that I also was a distracted driver and set a poor example for my 3 sons; and I explain how I changed the way I approach driving.
It is an interactive program that was designed along with child psychologists from CHOP (Children's Hospital of Philadelphia) with the goal of reaching out to students and capturing their attention. The power point has been revised numerous times based on pre and post presentation surveys received from more than 2500 teens.   It is a science–based presentation designed to engage teens and maximize the likelihood of changing attitudes and behaviors. The presentation is based on health communication and behavior change theory and incorporates teen messaging concepts to engage and appeal to teens in a non-confrontational manner.
I toss out wristbands to the students as they participate to encourage participation.  The presentation itself combines scientific data, testimonials and a little humor (in appropriate places).  At the end of the presentation, I usually discuss a Family Safe Driving Agreement (attached hereto) and ask the schools to discuss the issue with their students in smaller groups and have them take home the agreement to share with their families.  You see, we educate the students not only that they may make safer driving choices, but as a passenger, they do not have to let people drive them distracted!
And the students have been very receptive to the program.  Karen Roxbury from Gilmour Academy wrote to me recently to let me know that the dialogue is ongoing at the Gilmour community.  I was moved by her note: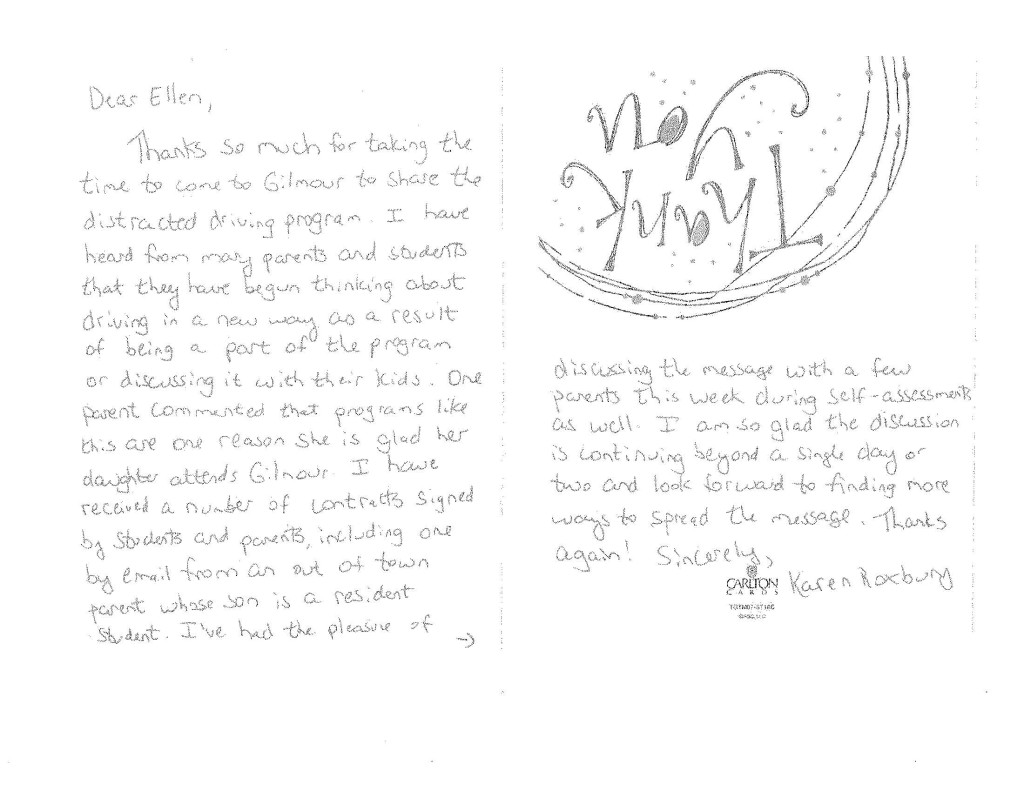 Heather Giel at Our Lady of the Elms emailed me today and said the program "WAS A HIT!"  Their students liked the fact that I did not "speak down to them", but rather spoke honestly about my history of distracted driving and the lengths I had to go through to change my approach to driving.   Even their faculty is reevaluating how they drive.
Together, we can change the way we drive and create a safer community!
Here is the EndDD Safe Driving Agreement we use: EndDD Safe Driving Agreement